RegionCap
RegionCap is a simple tool recording a video from a part of your screen.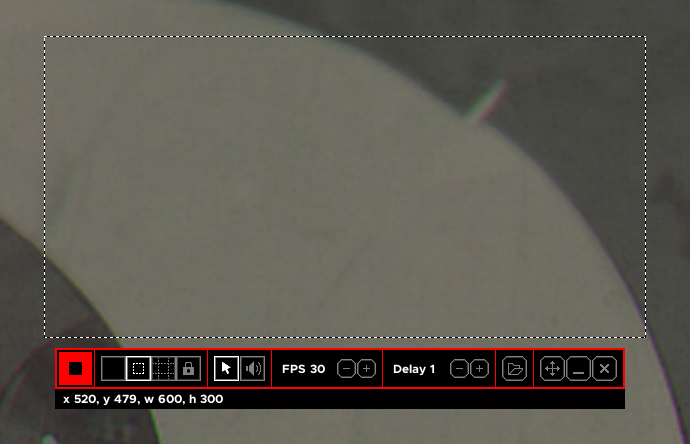 NOTE: RegionCap records a lossless video, which may create a very large file size. This program is not ideal for recording very long or large videos.
You should compress the video after recording, instructions for doing so are included. You can also use EasyVideoCrop.
---
Current status
There's some things that need to be done, such as recording a compressed video so it won't become huge if you record something like videogame footage, and making it easier to deal with audio, but I want to work on other projects for now.

Linux version may or may not happen in the future.

Mac version not planned.
---
Download
NOTE: In order to run RegionCap, you need FFmpeg. You can download it from it's own websites yourself, or from the link below on this page.
FFmpeg is a video processing tool, this is what actually records your screen. Wikipedia Download
Tools
If you place the executable from this in the RegionCap folder, you do not need to install it onto your computer. This allows you to use RegionCap as a "portable" program.
It is in separate download because it is about 200 times bigger than RegionCap itself.

Download FFmpeg.zip - 26.7 MB - (contains FFmpeg 6.0)
RegionCap 0.9

Download RegionCap_0-9.zip - 216 KB
---
Report bugs/problems or request features: find my contact here.